Community Dakwah Program @Xkwavers Against the Religiosity of Korean Wavers High School Level Muslim Students
Keywords:
Da'wah Program, Korean Wave, Religiousity
Abstract
One of popular cultures which has a public attention and has spread to various countries, including Indonesia, is the Korean Wave culture. Mostly of Korean Wave lovers are immersed in loving their idols, making barriers to self upgrading, especially in their Islamic quality. This study aims to analyze the da'wah program of the Xkwavers community on the religiosity of Korean Wavers Senior High School level Muslim students. This research method used a descriptive quantitative by observation, interview and literature study. This study used a questionnaire with 108 Korean Wavers muslim who participated by a Likert  Scale and religiosity by MUDRAS question items scale. The results showed that 51.9% are active Korean Wavers and showed that 62% of respondents were that Korean Wave culture had a balanced positive and negative impact, 20.4% stated that there were more negative impacts and 17.6% stated that they had a positive impact. The other results are also showed by the religiosity of respondents at Senior High School level which is described in the best worship percentage shown in the obligatory prayers on time. The xkwavers community missionary program came to invite Korean Wavers to study religion more deeply. The results showed that respondents who join in xkwavers program had an increased in religiosity by 33.26% likes the close relationship with Allah and the Prophet.
Downloads
Download data is not yet available.
References
Alawiyah, S., Handrianto, B., & Kania Rahman, I. (2020). Adab Berpakaian Wanita Muslimah Sesuai Tuntunan Syariat Islam. Rayah Al-Islam, 4(02), 218–228. https://doi.org/10.37274/rais.v4i02.338
Anisa Agustanti. (2022). Fanatisme Dan Konformitas Korean Wave Pada Remaja. Edu Consilium: Jurnal Bimbingan Dan Konseling Pendidikan Islam, 3(1), 51–65. https://doi.org/10.19105/ec.v3i1.5326
Fahira, H. (2022). Pengaruh Korean Wave dan Gaya Hidup Hedonia Terhadap Keputusan Pembelian Album Official BTS. Jurnal Ilmu Manajemen, 10(1), 148–159.
Hanifah, N., Fathiyya, A. Q., & Ardya, Z. (2023). PENGARUH PROGRAM KOMUNITAS XKWAVERS TERHADAP PENCINTA KOREAN WAVE MUSLIM DI INDONESIA.Program Penelitian Ilmiah. SMAIT Ummul Quro Bogor.
Khuriyah, N. K. U. &. (2021). Hubungan antara Religiusitas dan Pendidikan Karakter di Rumah terhadap Akhlak Siswa di Madrasah Tsanawiyah Negeri Surakarta. Cendekia, 15(1), 117–127. https://doi.org/10.30957/cendekia.v15i1.663.2019
Naim, Fuadh. (2021). Pernah tenggelam (Cetakan ke empat). Jl. Jimbaran Raya, Ruko Daan Mogot Baru 1A14, Kalideres – Jakarta Barat: Alfatih Press.
Naim, Fuadh. [Fuadh Naim]. (2022, Juli 1). [LIVE] Tentang Dakwah [Video]. YouTube. Diakses via https://youtu.be/FUWpfLkZQwM pada hari Jumat, tanggal 13 Juni, 2023, pukul 20.48 WIB.
Putri, K. A., Amirudin, A., & Purnomo, M. H. (2019). Korean Wave dalam Fanatisme dan Konstruksi Gaya Hidup Generasi Z. Nusa: Jurnal Ilmu Bahasa Dan Sastra, 14(1), 125. https://doi.org/10.14710/nusa.14.1.125-135
Rini Setiawati, Jasmadi, A. A. (2021). Pesan Dakwah Tentang Hijrah Dari Dunia Hallyu Pada Akun Instagram @xkwavers. Journal Komika, 4(1), 79–94.
Setiawan, Rizki dan Rosi Apriliani. Jurnal Hermeneutika. Pembentukan Konsep Diri Mahasiswa Penggemar Budaya Populer Korea. Vol. 5, No. 2 (2019). Fakultas Keguruan dan Ilmu Pendidikan Universitas Sultan Ageng Tirtayasa. Banten
Suntana, Ija. Jurnal Digital Library UIN Sunan Gunung Djati. Politik Hukum Islam. (2014). Fakultas Syariah dan Hukum Bandung.
Suryadi, Bambang, and Hayat Bahrul. 2021. Religiusitas Konsep, Pengukuran, Dan Implementasi Di Indonesia. Jakarta: Bibliosmia Karya Indonesia.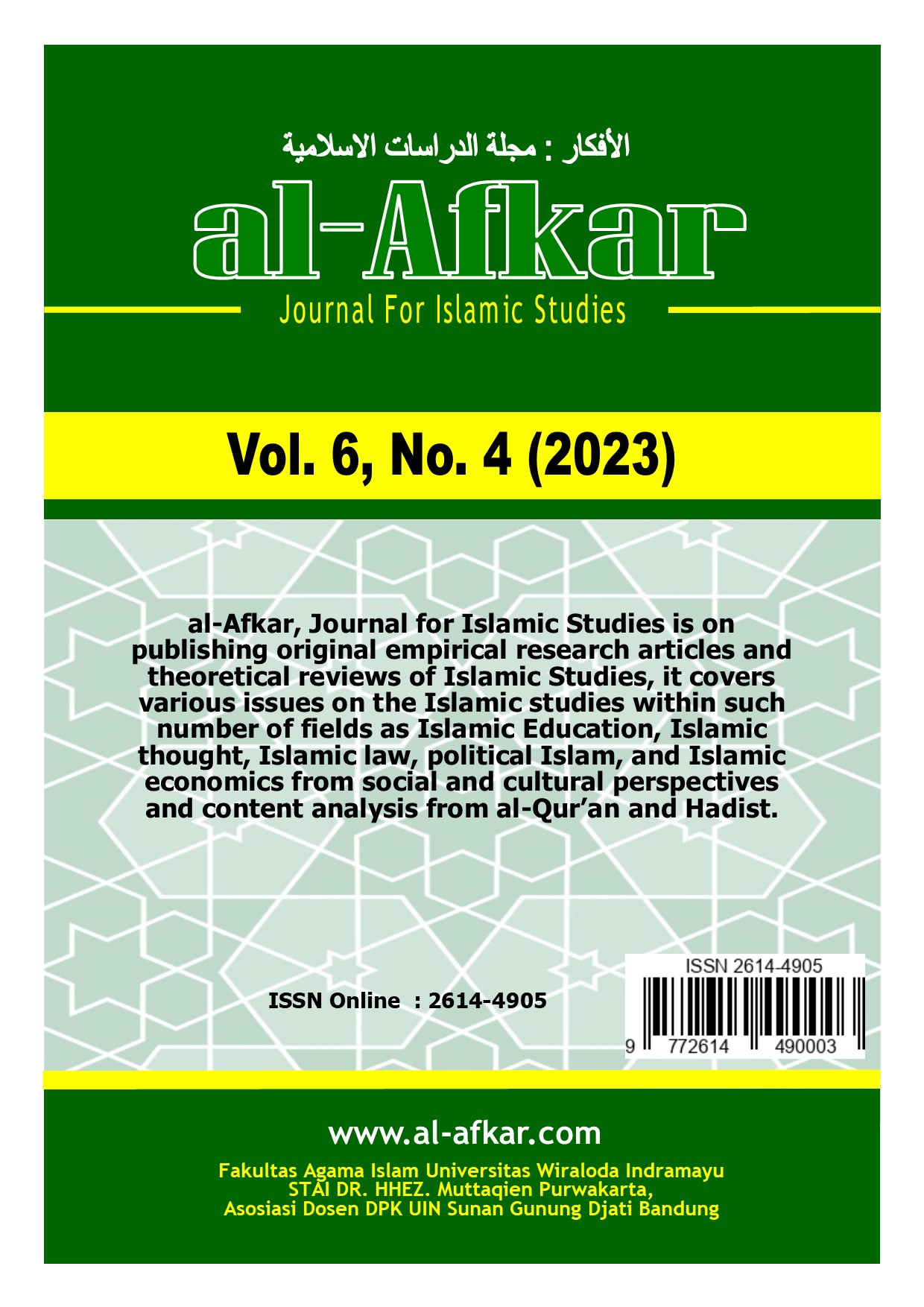 Downloads
How to Cite
Hilda Rafika Waty, Budi Handrianto and Wido Supraha (2023) "Community Dakwah Program @Xkwavers Against the Religiosity of Korean Wavers High School Level Muslim Students", al-Afkar, Journal For Islamic Studies, 6(4), pp. 437–449. doi: 10.31943/afkarjournal.v6i4.817.
License
Copyright (c) 2023 Hilda Rafika Waty, Budi Handrianto, Wido Supraha
This work is licensed under a Creative Commons Attribution 4.0 International License.