Why Mudharabah Is Not Developing In Islamic Banking
Keywords:
Mudharabah, Islamic Banking, risk
Abstract
Why mudharabah has not grown significantly in Islamic banking: Complexity and Risk: Mudharabah has a complex structure and involves profit sharing between the capital and the manager (mudharib). The success of mudharabah is highly dependent on the manager's ability to manage risk wisely. This can be challenging for Islamic banks as it requires specialized expertise in risk management and business evaluation. Uncertainty of Results: In mudharabah, business results cannot be guaranteed and may vary from time to time. This creates uncertainty for the capital party (shahib al-mal), especially if they want a fixed and stable return. This uncertainty may discourage investors and discourage the use of mudharabah on a large scale. Preference for Easier Instruments: Some Islamic banks prefer other financial instruments that are easier to implement, such as murabahah (sale and purchase with markup) or ijarah (lease). These instruments have simpler structures and are easier to understand, allowing banks to quickly offer products and services to their customers. Lack of Awareness and Understanding: Lack of awareness and understanding of mudharabah among the public and Islamic bank customers can also be a hindering factor. If customers do not have sufficient understanding of the concept and benefits of mudharabah, they may be reluctant to use products or services related to it. Unfavorable Rules and Regulations: Some rules and regulations in some countries may not provide sufficient support for the development of mudharabah in the Islamic banking industry. Certain legal ambiguities or regulatory constraints may hinder the freedom and flexibility in using mudharabah as a financial instrument. Slower Industry Development: The Islamic banking industry is still relatively young compared to conventional banking. While there has been significant growth in recent years, Islamic banking still faces challenges in achieving the same size and scale as conventional banking. This may also affect the wider adoption of mudharabah in the industry.
Downloads
Download data is not yet available.
References
Agung, Juda, and Cicilia A. Harun. Kebijakan Makroprudensial di Indonesia: Konsep, Kerangka, dan Implementasi - Rajawali Pers. PT. RajaGrafindo Persada, 2021.
Anshori, Abdul Ghofur. Perbankan Syariah di Indonesia. UGM PRESS, 2018.
Arifiani, Dr Librita, and Dr Asnan Furinto. TRANSFORMASI MODEL BISNIS Konsep, Strategi, dan Antisipasi Menyongsong Era Metaverse. Scopindo Media Pustaka, 2022.
Arifudin, Opan, Udin Wahrudin, and Fenny Damayanti Rusmana. MANAJEMEN RISIKO. Penerbit Widina, 2020.
Ayub, Muhammad. UNDERSTANDING Islamic Finance. Gramedia Pustaka Utama, 2013.
Chapra, Muhammad Umer. Sistem moneter Islam. Gema Insani, 2000.
Dede Nurohman (2022) "MUHAMMAD SYAHRUR DAN PEMIKIRANNYA TENTANG BANK SYARIAH", al-Afkar, Journal For Islamic Studies, 5(1), pp. 193–209. doi: 10.31943/afkarjournal.v5i1.209.
Dedi, Ibnu Rusydi and Nursyamsi (2022) "Aplikasi Mashlahat Dalam Transaksi Ekonomi Syariah Kontemporer Di Indonesia Perspektif Legislasi", al-Afkar, Journal For Islamic Studies, 5(4), pp. 190–206. doi: 10.31943/afkarjournal.v5i4.351.
Ekonomi Uang, Perbankan, Pasar Keuangan 1(ed.9). Penerbit Salemba, n.d.
Fadhli, Mulkan, and Syafrida Hafni Sahir. Keterampilan Manajerial Efektif. Yayasan Kita Menulis, 2020.
Fasa, Darmawan dan Muhammad Iqbal. Manajemen Lembaga Keuangan Syariah. UNY Press, 2020.
Fatihudin,SE.,M.Si, Dr Didin. METODE PENELITIAN: Untuk Ilmu Ekonomi, Manajemen, dan Akuntansi. Zifatama Jawara, n.d.
Indonesia, Ikatan Bankir. Manajemen Risiko 2. Gramedia Pustaka Utama, 2015.
———. Mengelola Bank Syariah (Cover Baru). Gramedia Pustaka Utama, 2018.
Kartono, Salim. Crisis to Win Revolution (New Edition). TransMedia, 2017.
Mas Rahmah,. Hukum investasi. Prenada Media, 2020.
Manurung, Dr Laurensius. Strategi & Inovasi Model Bisnis Meningkatkan Kinerja Usaha: Studi. Elex Media Komputindo, 2013.
Mardani, D. A. (2018) "PERAN PERBANKAN SYARIAH DALAM MENGIMPLEMENTASIKAN KEUANGAN INKLUSIF DI INDONESIA", al-Afkar, Journal For Islamic Studies, 1(1), pp. 105–120. doi: 10.31943/afkar_journal.v1i1.10.
Zainul Arifin. Dasar-dasar Manajemen Bank Syariah. Pustaka Alvabet, 2012.
Sri Handini, and Dra Erwin Dyah Astawinetu MM. TEORI PORTOFOLIO DAN PASAR MODAL INDONESIA. Scopindo Media Pustaka, 2020.
Sigit Hermawan, SE, and Amirullah M.M SE. METODE PENELITIAN BISNIS: Pendekatan Kuantitatif & Kualitatif. Media Nusa Creative (MNC Publishing), 2021.
Lufthia Sevriana, S. E., and Dudung Abdurrahman E. Helicopter View Ekonomi Islam. Deepublish, 2021.
Sri Hayati, S. E,. Manajemen Resiko untuk Bank Perkreditan Rakyat dan Lembaga Keuangan Mikro. Penerbit Andi, n.d.
Pribadi, Dr Benny A. Media & Teknologi Dalam Pembelajaran. Prenada Media, 2017.
RI, Pusat Kajian Akuntabilitas Keuangan Negara-Badan Keahlian DPR. Akuntabilitas Pengelolaan Keuangan Negara : Studi Kasus Empat Tahun Anggaran (2015-2018) Laporan Keuangan Pemerintah Pusat. Pusat Kajian Akuntabilitas Keuangan Negara, 2020.
Ryandono, Muhamad Nafik Hadi, and Rofiul Wahyudi. Manajemen Bank Islam: Pendekatan Syariah dan Praktek. UAD PRESS, 2021.
Sawir, Agnes. Kebijakan pendanaan dan kestrukturisasi perusahaan. Gramedia Pustaka Utama, 2004.
Setyawan, Setu. AKUNTANSI KEUANGAN LANJUTAN: Pengukuran, Pencatatan, dan Pelaporan Transaksi Khusus. UMMPress, 2021.
Sula, Muhammad Syakir, and Hermawan Kartajaya. Syariah Marketing. Mizan Pustaka, 2006.
Triyono, Reni Maralis dan Aris. Manajemen resiko. Deepublish, 2019.
Usman, Rachmadi. Aspek-aspek hukum perbankan di Indonesia. Gramedia Pustaka Utama, 2001.
Yusmad, Muammar Arafat. Aspek Hukum Perbankan Syariah dari Teori ke Praktik. Deepublish, 2018.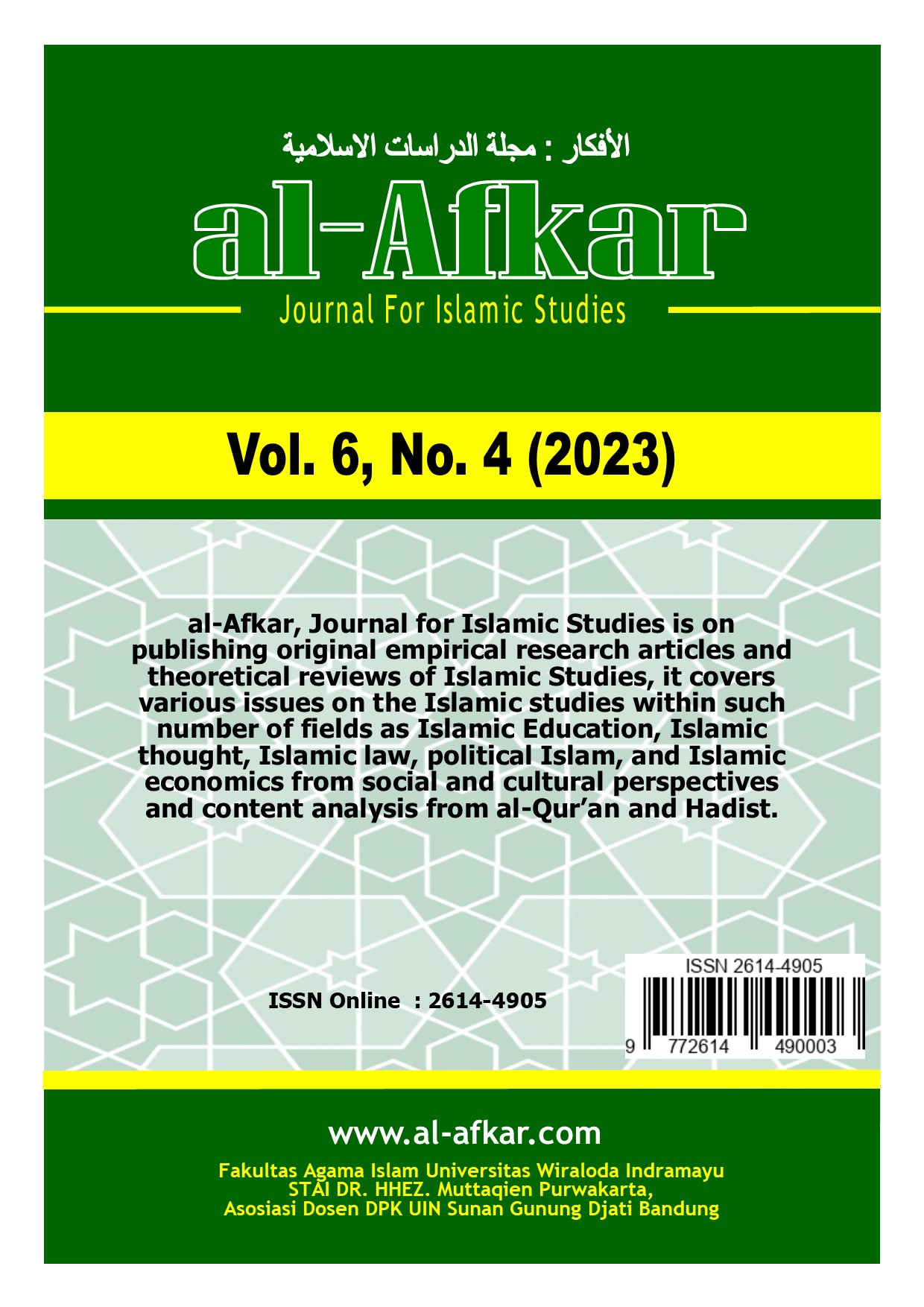 Downloads
How to Cite
Lina Pusvisasari, Sofyan Al-Hakim and Iwan Setiawan (2023) " Why Mudharabah Is Not Developing In Islamic Banking", al-Afkar, Journal For Islamic Studies, 6(4), pp. 190–203. doi: 10.31943/afkarjournal.v6i4.805.
License
Copyright (c) 2023 Lina Pusvisasari, Sofyan Al-Hakim, Iwan Setiawan
This work is licensed under a Creative Commons Attribution 4.0 International License.