Transactional Comparative Analysis of Ijarah and Al Ijarah Al Muntakiya Bit Tamlik in Islamic Banks
Keywords:
Ijarah, Al Ijarah al Muntakiya bit Tamlik, , MUI, KHES.
Abstract
This research is to find out how ijarah and al-Ijarah al-Muntakiya bit Tamlik (IMBT) transactions are carried out in Islamic banks. The implementation of leasing transactions with ijarah schemes and IMBT in sharia bank products is in accordance with sharia principles. The implementation of ijarah transactions in Islamic banks refers to the provisions of the Fatwa of the National Sharia Council of the Indonesian Ulema Council (DSN-MUI) and Supreme Court Regulation Number 2 of 2008 concerning Compilation of Sharia Economic Law (KHES). There is a comparison with the implementation of the transfer of ownership of the leased object to IMBT, the transfer of the object for lease can only be attempted if the ijarah contract has ended, the option for transferring the object for lease can be attempted by promise (wa'ad). buy and sell. So there are no provisions in the IMBT contract based on the transfer of object ownership by promise (wa'ad). grants, this issue is contradictory because there is a reward that must be given by the customer (mustajir) to the bank for the object of the IMBT contract.
Downloads
Download data is not yet available.
References
Al-Hasun, F. b. (2005). Al-Ijarah AlMuntahiya Bi Al-Tamlik fi Al-Fiqh Al-Islam. Maktabah Misyikah AlIslamiyyah.
Antonio, Syafi'i, Bank Syariah Dari Teori Ke Praktik, Jakarta: Gema Insani Press, 2001.
Dewi, Gemala, dkk, Hukum Perikatan Islam di Indonesia, Jakarta: Kencana, 2006.
Fahd bin, Ali al-Hasun, al-ijarah al-muntahiyah bil Tamlik fi al-Fiqh al-Islami, Maktabah Misykah al-Islamiyyahh, 2005.
Franedya, Roy, "BI Identifikasi Masalah Loan to Value di Syariah.
Izzati, Rahmi dan Sri Nurhayati, Analisis Penerapan Transaksi Ijarah Muntahiya Bittamlik (IMBT) dalam Pembiayaan Pemilikan Rumah (PPR) Berdasarkan Fatwa DSN MUI, Peraturan Bank Indonesia, PSAK 107, PAPSI 2013, Dan FAS 8 (Studi Kasus Pada Bank XYZ), Program Studi Akuntansi Fakultas Ekonomi Universitas Indonesia.
Karim, Adiwarman, Bank Islam Analisis Fiqih dan Keuangan, Jakarta: PT. Raja Grafindo Persada, 2004.
Karim, A. A. (2006). Bank Islam: Analisis Fiqh dan keuangan. Jakarta: RajaGrafindo Persada.
Rivai, Veithzal dan Andria Permata Veithzal, Islamic Financial Management, Jakarta: Raja Grafindo Persada, 2008.
Syukron, Ali, Implementasi Al-Ijārah Al-Muntahiya Bi Al-Tamlik (IMBT) di Perbankan Syariah, Economic: Jurnal Ekonomi dan Hukum Islam, Sekolah Tinggi Agama Islam Darul Ulum Banyuwangi, Vol. 2, No.2, 2012.
Tamala, Evy, Konsep dan Aplikasi Peralihan Kepemilikan Pada Ijarah Muntahiyah Bittamlik (IMBT) Studi Komparatif (PT Bank Muamalat Syariah Indonesia dan Bank DKI Syariah Wahid Hasyim), Skripsi, Fakultas Syariah dan Hukum UIN Syarif Hidayatullah, Jakarta 2010.
Tim Penulis Dewan Syariah Nasional MUI, Himpunan Fatwa Dewan Syariah Nasional, Jakarta: PT Intermasa, 2003.
Mustofa, I. (2016). Fikih Muamalah Kontemporer. Jakarta: PT Rajawali Grafindo Persada.
Neneng Nurhasanah, P. A. (2017). Hukum Perbankan Syariah: Konsep dan Regulasi. Jakarta: Sinar Grafika.
Azzam, A. A. (2010). Fiqh Muamalat SIstem Transaksi dalam Fiqh Islam. Jakarta: Amzah.
Ansori, A. G. (2009). Perbankan Syariah di Indonesia. Yogyakarta: Universitas Gajah Mada.
Hatta, S. G. (2000). Beli Sewa sebagai Perjanjian Tak Bernama: Pandangan masyarakat dan Sikap Mahkamah Agung Indonesia. Bandung: Alumni.
Imaniyati, N. S. (2008). Hukum Perbankan. Bandung: Fakultas Hukum Unisba.
Ismail. (2011). Perbankan Syariah. Jakarta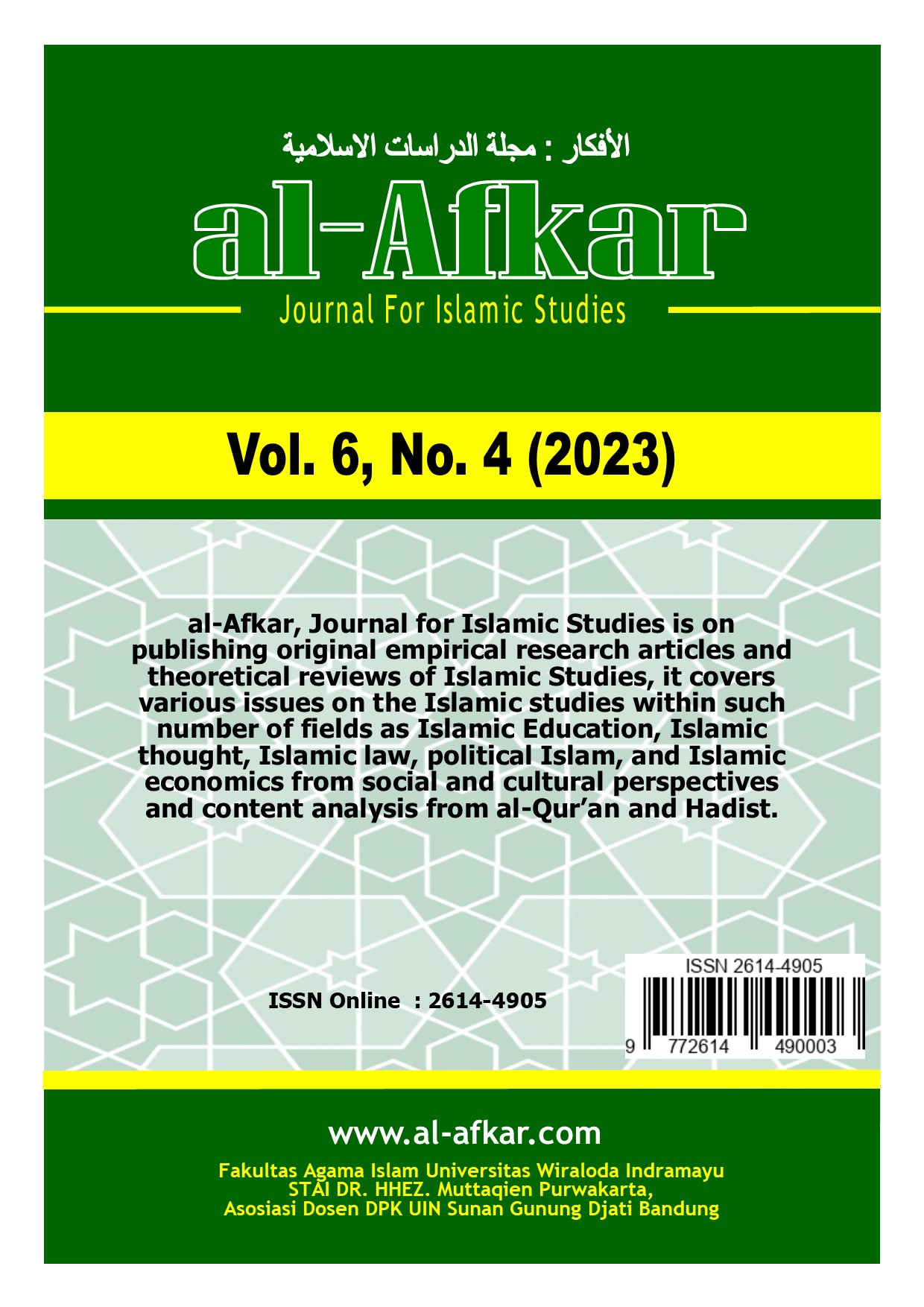 Downloads
How to Cite
Asep Dadang Hidayat, Sofyan Al-Hakim and Iwan Setiawan (2023) "Transactional Comparative Analysis of Ijarah and Al Ijarah Al Muntakiya Bit Tamlik in Islamic Banks", al-Afkar, Journal For Islamic Studies, 6(4), pp. 66–78. doi: 10.31943/afkarjournal.v6i4.762.
License
Copyright (c) 2023 Asep Dadang Hidayat, Sofyan Al-Hakim, Iwan Setiawan
This work is licensed under a Creative Commons Attribution 4.0 International License.