Nikah Sirri Versus Nikah Understand Acte: Perspective of Contemporary Islamic Law
Keywords:
Sirri Marriage, Understand Acte Marriage, Contemporary Islamic Law
Abstract
The perspective of contemporary Islamic law is a perspective that tries to see further how understand acte versus sirri marriage exists in the midst of modern human life as a phenomenon. An approach based on the responsive fiqh paradigm is a necessity in the development of contemporary Islamic law, including addressing sirri marriage versus understand acte marriage. In this process, a marriage that is carried out must be carried out through an understand acte marriage because with the registration of marriages at an official state institution, this will guarantee state protection with its normative juridical authority for the parties involve. Phenomenon of modern human life today which shows that marriage with sirri marriage raises various problems implies the need for contemporary Islamic law to emphasize that registration of marriage in an official state institution or understand act marriage is an aspect that needs to be considered to become a legal requirement of a marriage.
Downloads
Download data is not yet available.
References
Kasiram, Moh., Metodologi Penelitian Kualitatif-Kuantitatif, Malang: UIN Malang Press, 2008.
Khatimah, Husnul, Nikah Sirri: Perspektif Hukum Fiqh dan Hukum Positif di Indonesia, http://www.pa-pulangpisau.go.id. (27 Mei 2023)
Mannan, Abdul, Aneka Masalah Hukum Perdata Islam di Indonesia, (Jakarta: Kencana, 2006.
Materan, Rekonstruksi Metodologi Hukum Islam Kontemporer, Mazahib: Jurnal Pemikiran Hukum Islam Vol. 10 No. 1 Tahun 2012.
MK, M. Anshary, Hukum Perkawinan di Indonesia: Masalah-Masalah Krusial, Yogyakarta: Pustaka Pelajar, 2010.
Moleong, Lexy J., Metodologi Penelitian Kualitatif, Bandung: PT. Remaja Rosdakarya, 2006.
Nawawi, Hadari, Metode Penelitian Bidang Sosial, Yogyakarta: Gadjah Mada University Press, 2005.
Nazir, Moh., Metode Penelitian, Jakarta: Ghalia Indonesia 2003.
al-Qardhawi, Yusuf, Syariah Islamiyah: Khuluduha wa Shalahuha li Tathbiqiha fi Kulli Zaman wa Makan, Kairo: Dar al-'Arabi, 1986.
Ridwan, Nur Kholik, Ajaran-Ajaran Gus Dur: Syarah 9 Nilai Utama Gus Dur, Yogyakarta: Noktah, 2019.
Rusli dkk., Nikah Sirri Versus Nikah Understand Acte: Perspektif Hukum Islam Kontemporer, Al-Bayyinah: Journal of Islamic Law Vol. 4 No. 2 Tahun 2020.
Sudjana, Nana dan Awal Kusuma, Proposal Penelitian di Perguruan Tinggi, Bandung: Sinar Baru Algensindo, 2008.
Supena, Ilyas, Rekonstruksi Epistemologi Ilmu-Ilmu Keislaman, Yogyakarta: Penerbit Ombak, 2015.
Usman, Rachmadi, Makna Pencatatan Perkawinan dalam Peraturan Perundang-Undangan Perkawinan di Indonesia, Jurnal Legislasi Indonesia Vol. 14 No. 03 Tahun 2017.
Zubaidah, Dwi Arini, Pencatatan Perkawinan sebagai Perlindungan Hukum dalam Perspektif Maqashid asy-Syariah, Jurnal al-Ahwal Vol. 12 No. 1 Tahun 2019.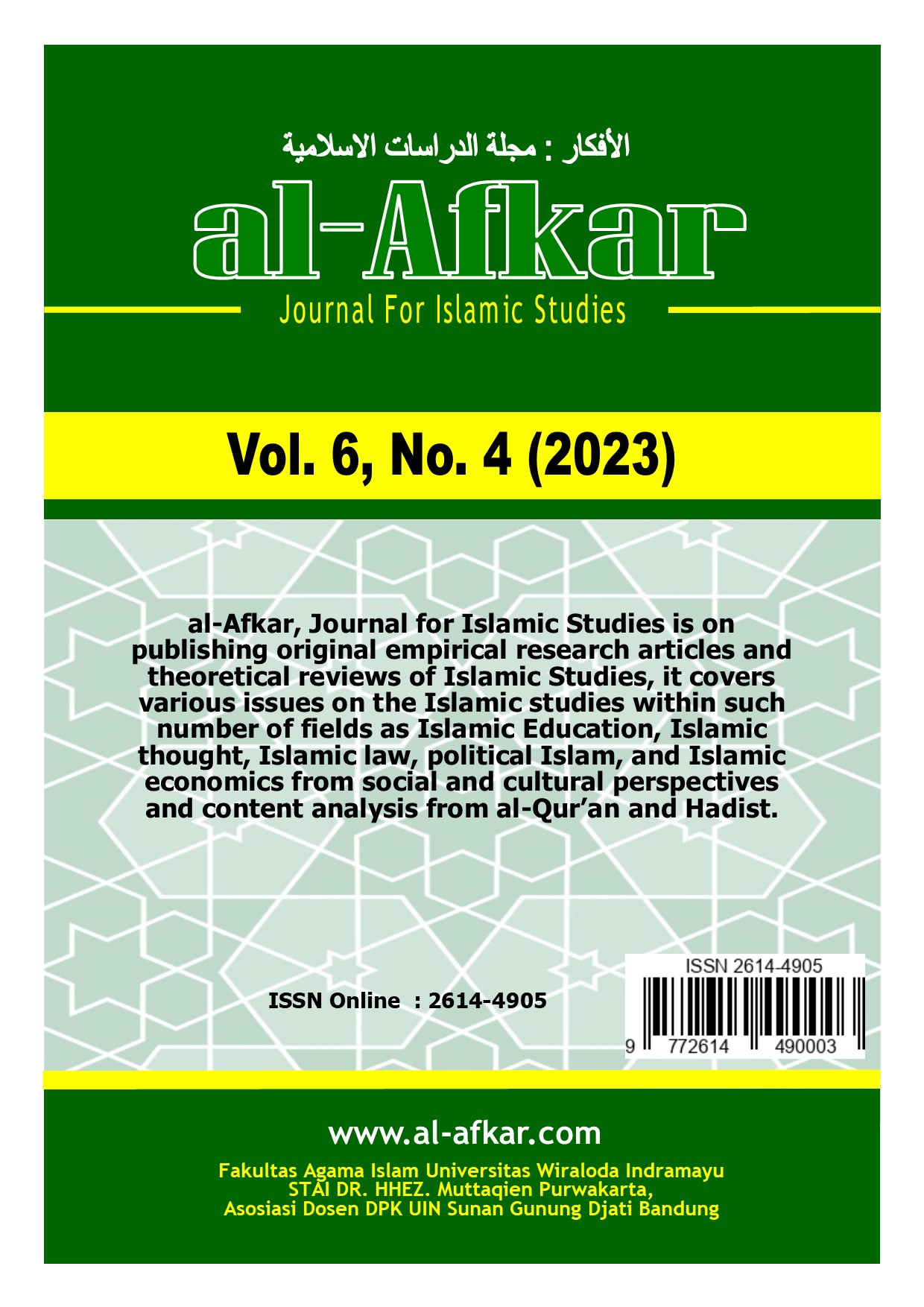 Downloads
How to Cite
Nawirman, Achmad Musyahid, Hartiningsih and Nurchamidah (2023) "Nikah Sirri Versus Nikah Understand Acte: Perspective of Contemporary Islamic Law", al-Afkar, Journal For Islamic Studies, 6(4), pp. 302–311. doi: 10.31943/afkarjournal.v6i4.735.
License
Copyright (c) 2023 Nawirman, Achmad Musyahid, Hartiningsih, Nurchamidah
This work is licensed under a Creative Commons Attribution 4.0 International License.