Implementation of Religious Character Education Levels of Madrasah Tsanawiyah Education Case Study at MTS Al-Fathimiyah Karawang
Keywords:
Character Education, Religious Culture, MTs
Abstract
This research aims: 1). To find out the implementation of character education at MTS Al-Fathimiyah. 2). To find out the character of religious culture at MTS Al-Fathimiyah. 3). To find out the obstacles to the implementation of religious character education at MTs Al-Fathimiyah. This research was conducted using a qualitative approach that focused on collecting data obtained from interviews, observation, documentation. Data analysis techniques using data reduction. Presentation of data, and drawing a conclusion. From the research that has been done, it can be concluded that the implementation of religious character education at MTs Al-Fathimiyah has become a culture or character of MTs Al-Fathimiyah which has been running and maintained for a long time so that it has become a hallmark of formal institutions, both junior high and fellow MTs. The culture of Islamic boarding school-based schools in the early days became something strange among students who did not attend school, but with the guidance of teachers who continued to be encouraged to become role models and the regulations that had been implemented had an impact on the success of the implementation of religious character education so that it could be imitated by other formal institutions.
Downloads
Download data is not yet available.
References
Amirudin, A., Mukhtar, U., & Muzaki, I. (2020). The Formulation Of Management Standard For Karawang Kota Santri Program. https://doi.org/10.4108/eai.30-9-2019.2291128 Amirudin, A., & Muzaki, I. (2019a). Rendering Learning Approach With Islamic Religious
Amirudin. 2017. PERANAN MANAJEMEN PERGURUAN TINGGI DAN IMPLEMENTASINYA DI FAKULTAS AGAMA ISLAM (FAI) UNSIKA. Vol. 1 No. 1 (2017): Jurnal Pendidikan Islam Rabbani
Education Subjects and Students Accounting XI Relationship with Management and Business. https://doi.org/10.4108/eai.17-10-2019.2289728
Amirudin, A., & Muzaki, I. A. (2019b). Life Skill Education and It'S Implementation in Study Programs Islamic Religious Education. Jurnal Tarbiyah, 26(2), 278–293. https://doi.org/10.30829/tar.v26i2.485
Amirudin, I. (2020). Analysis Of Policy Development Models For Strengthening Character Education Based On Islamic Education In The First Middle Education Unit In Karawang District. Multicultural Education, 6(5), 15–19. https://doi.org/10.5281/zenodo.4393076
Amirudin, A., & Mukarom, Z. (2019). Pendidikan Karakter dalam Kaulinan Budak
Baheula: Studi Nilai Pendidikan Karakter Melalui Permainan Anak Tradisional Sorodot Gaplok Dari Jawa Barat. Al-Bidayah: Jurnal Pendidikan Dasar Islam, 10(2), 211–228. https://doi.org/10.14421/al-bidayah.v10i2.160
Amirudin, I Muzaki. 2021. Strengthening Character EducationCulture-Based School In Junior High School Karawang Regency. Jurnal: Abdimas Umtas: Jurnal Pengabdian Kepada Masyarakat LPPM-Universitas Muhammadiyah Tasikmalaya Volume: 5 Nomor: 2
Amirudin, & Muzaki, I. A. (2021b). Minimizing Students' Boredom in Learning Islamic Cultural History Using Card Short Method at Madrasah Aliyah Negeri ( MAN ) I Karawang. 20(1), 2639–2646. https://doi.org/10.17051/ilkonline.2021.01.296
Amri dkk. 2011. Implementasi Pendidikan Karakter dalam Pembelajaran. Jakarta: Prestasi Pustaka.
Ansulat Esmaeel, Nafiah, (2018). Implentasi Pendidikan Karakter Religius di Sekolah Dasar Khadijah Surabaya. Edustream: Jurnal Pendidikan Dasar, Volume II, Nomor 1, Mei 2018. https://journal.unesa.ac.id/index.php/jpd/article/view/4161
Fathurrohman, D. 2013. Pengembangan Pendidikan Karakter. Bandung: Refika Aditama. Hal 22
Felixtian. T, Marpelina Leni, (2021). Relevansi Industri 4.0 dan Society 5.0 Terhadap Pendidikan Di Indonesia, Educatio: Jurnal Ilmu Kependidikan, Vol. 16, No 2 Desember 2021, hal. 173-184. http://e-journal.hamzanwadi.ac.id/index.php/edc
Jalil. A, Amirudin. IMPLEMENTASI PENDIDIKAN KARAKTER BERBASIS BUDAYA RELIGIUS (STUDI DESKRIPTIF DI SDIT TAHFIZH QUR'AN AL-JABAR) VOL. 4 NO. 01 (2020): WAHANA KARYA ILMIAH PENDIDIKAN. https://journal.unsika.ac.id/index.php/pendidikan/article/view/4331
Imam Machali, 2015. The Handbook of EDUCATION MANAGEMENT Teori dan Praktik Pengelolaan Sekolah/ Madrasah di Indonesia. (PRENADA MEDIA GROUP: Jakarta), hal 25
Majdid Nurcholis. 1997. Bilik-bilik Pesantren: Sebuah Potret Perjalanan. Jakarta: Paramadina
Mudyahardjo, (2002). Pengantar Pendidikan, Sebuah Studi Awal tentang Dasar-dasar Pendidikan pada Umumnya dan Pendidikan di Indonesia. (Raja Grafindo: Jakarta)
Moleong, Lexy J, Metodologi Penelitian Kualitatif, Bandung: PT. Remaja Rosdakarya, 2017)
Peraturan Menteri Agama Nomor 2 Tahun 2020. Tentang penyelenggaraan penguatan Pendidikan karakter. https://www.jogloabang.com/pendidikan/permenag-2-2020 penyelenggaraan-penguatan-pendidikan-karakter.
Peraturan Presiden Republik Indonesia Nomor 87 Tahun 2017 pasal 2 ayat 2 tentang Penguatan Pendidikan Karakter (PPK)
Rochaety Eti. (2012). SISTEM INFORMASI MANAJEMEN PENDIDIKAN. (PT. Bumi Aksara: Bandung) hal. 14
Sugiono, Metode Penelitian Kuantitatif, Kualitatif dan R & D (Cet. III; Bandung: Alfabeta, 2008).
Sulhan, N. (2011:). Pengembangan karakter dan Budaya Bangsa. Surabaya: Jawa Post. 05
Takdir. (2018). PENDIDIKAN KARAKTER BERBASIS ISLAM NUSANTARA (Telaah Pemikiran Said Aqil Siroj), (3), 1–13. https://doi.org/10.1093/imamci/dnt037
Undang-Undang Nomor 20 Tahun 2003 tentang Sistem Pendidikan Nasional. https://pusdiklat.perpusnas.go.id/regulasi/download/6. Di kases pada tanggal 18 juli 2023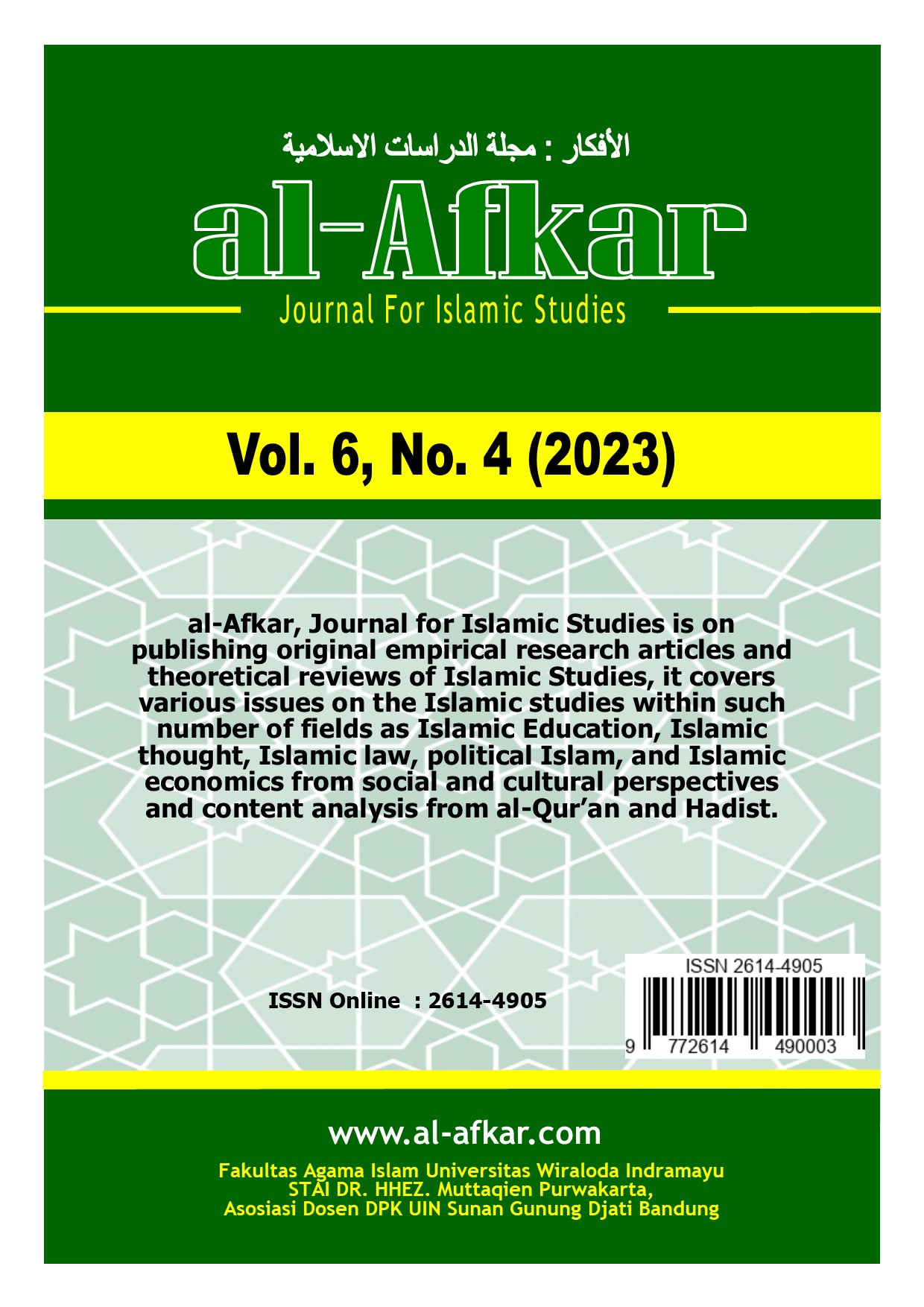 Downloads
How to Cite
Cecep Abdullah, Amirudin and Acep Nurlaleli (2023) "Implementation of Religious Character Education Levels of Madrasah Tsanawiyah Education Case Study at MTS Al-Fathimiyah Karawang", al-Afkar, Journal For Islamic Studies, 6(4), pp. 472–481. doi: 10.31943/afkarjournal.v6i4.788.
License
Copyright (c) 2023 Cecep Abdullah, Amirudin, Acep Nurlaleli
This work is licensed under a Creative Commons Attribution 4.0 International License.