Student Care Strategy Through Application Code Of Ethics Of Santri In Pesantren Al-Qur'an Cijantung Ciamis
Keywords:
Parenting for Santri, Code of Ethics, Islamic Boarding School
Abstract
The pattern of parenting for santri in pesantren is quite varied, but there is no single parenting model that is said to be the most effective because each pesantren has different conditions. The purpose of this research is to see how the parenting model for Santri at Pesantren Al-Qur'an Cijantung Ciamis, the model of supervision, guidance, discipline, reward, and punishment in pesantren, and the implementation of the Santri Code of Ethics are carried out. This research is qualitative, with the main instrument being the researcher himself (a human instrument). This study uses data collection methods such as observation, interviews, and documentation. In data analysis techniques, using four stages, namely data reduction, data presentation, interpretation, and conclusion of data. The results of the study show that Pesantren Al-Qur'an Cijantung Ciamis, in caring for students, has a parenting system guided by the Santri Code of Ethics, which is carried out democratically. The code of ethics for students is the highest rule that must be obeyed by all students, including those who live in pesantren. The Code of Ethics is a standard of behavior and morals that must be obeyed by all students.
Downloads
Download data is not yet available.
References
Abu Hasan Agus R & Firdausul Jannatul Aliah, Reinforcement Furudul 'Ainiyah Santri Melalui Intensifikasi Wali Asuh Di Pondok Pesantren Nurul Jadid, Islamika: Jurnal Keislamandan Ilmu Pendidikan Volume 2, Nomor 2, Juli2020; h.312-327https://ejournal.stitpn.ac.id/index.php/islamika,DOI:https://doi.org/10.36088/islamika.v2i2.797.
Achmad Muchaddam Fahham (2015). Pendidikan Pesantren: Pola Pengasuhan, Pembentukan Karakter, Dan Perlindungan Anak, P3DI Setjen DPR RI dan Azza Grafika 2015, dalam https://adoc.tips/pendidikan-pesantren-pola-pengasuhan-pembentukan-karakter-da.html
Achmad Fawaid (2020). Pesantren Dan Religious Authoritative Parenting:Studi Kasus Sistem Wali Asuh di Pondok Pesantren Nurul Jadid, Ilmu Ushuluddin, hlm. 27-40 Vol.19, No. 1, Januari-Juni 2020 ISSN (print) 1412-5188 ISSN (online) 2549-3752.
Amir, Safilu, & Muhammad Yuris (2019), Pengaruh Model Problem Based Learning dan Pola Asuh Orang Tua Terhadap Keterampilan Proses Sains Peserta Didik MTs., Jurnal Biofiskim, Vol.1, No.1, April 2019, h. 37-48.
Arif Mahmudi (2020), Pengaruh Bimbingan Konseling, Pola Asuh Orang Tua Dan Lingkungan Sekolah Terhadap Kemandirian Peserta Didik Di SMA Negeri 1 Jogonalan Kabupaten Klaten, Dwijaloka; Jurnal Pendidikan Dasar dan Menengah Vol I No. 2, Juli 2020, h.261-269.
Arif, M. A. K., Putri, W., & Ardawinata, K. (2023). Principal Policy in Improving the Quality of Education MAN 1 Yogyakarta. Al-Afkar, Journal For Islamic Studies, 6(3), 816–825.
Betty Adinda Wijaya.(2019). Pendidikan Akhlak Dalam Membentuk Sikap Disiplin Santri Di Pondok Pesantren Darun Najah Ngijo Malang, VICRATINA: Jurnal Pendidikan Islam Volume 4 Nomor 8 Tahun 2019.
Fikriyah Iftinan Fauzi & Hasanuddin (2019), Hubungan Antara Pola Asuh dan Kecerdasan Emosi dengan Komunikasi Interpersonal Pada Siswa Madrasah Aliyah Negeri (MAN Binjai), Proceeding Icopoid 2019 The 2nd Interntional Conference on Politics of Islamic Development, MAP– Universitas Medan Area, Indonesia April 2019 Url: http://proceeding.uma.ac.id/index.php/icopoid, h.53-63.
Fauziyah, I. (2023). Efforts to Improve Discipline Through Storytelling Methods Using Hand Puppets at PAUD Bahrul Ihsan Ciamis. Al-Afkar, Journal For Islamic Studies, 6(3), 683–695.
Haq, T. (2020). Pola Asuh Orang Tua Dalam Perilaku Sosial Generasi Millenial Ditinjau Dari Neurosains. Al-Mada: Jurnal Agama, Sosial, Dan Budaya, 3(1), h. 88-108. https://doi.org/10.31538/almada.v3i1.609
https://pst cijantung.sch.id/index.php/pages/showpage/profile/sejarah/1 (Akses, 02 Agustus 2020.)
https://adoc.tips/pendidikan-pesantren-pola-pengasuhan-pembentukan-karakter-da.html
Ilham Maghfirah, Duryati Duryati (2019), Hubungan Gaya Pengasuhan Ustad Asrama Dengan Kekerasan Verbal Pada Santri Remaja Pondok Pesantren, Jurnal Riset Psikologi, Vol 2019, No 4 (2019), h.1-11
Khusnul Khotimah. (2019). Religiusitas dan Perilaku Disiplin Santriwati Madrasah Aliyah Pondok Pesantren, Jurnal Studia Insania, November 2019, hal 161 - 171 Vol. 7, No. 2 ISSN 2355-1011, e-ISSN 2549-3019, DOI: 10.18592/jsi.v7i2.2501
Muhammad Fadhillah & Apriadi (2020), Pola Komunikasi Ustadz Dalam Membina Akhlak Santri (Studi Kasus Pondok Pesantren Modern Dea Malela), Kaganga Komunika, Jornal Of Communication Science, Volume 2 Nomor 1 Mei 2020 ISSN 2715-7520 E-ISSN 2715-5099http://jurnal.uts.ac.id/index.php. h 51-57.
Saridudin, S. (2020). Pengembangan Kurikulum Pendidikan Diniyah Formal (PDF) Di Pesantren Ulya Zainul Hasan Probolinggo. EDUKASI: Jurnal Penelitian Pendidikan Agama Dan Keagamaan, 18(1), 84–99.
Saridudin, S. (2021). Pemberdayaan Jamaah Melalui Pendidikan Life Skills Pada Masjid Al-Anwar Gondang Wonosobo. Penamas, 34(1), 23–42.
Siregar, M., & Aini, L. N. (2019). Pengembangan Input Santri Baru Berbasis Adaptasi-Karantina (Studi Analisis Santri Baru Di Pesantren Yanaabii'Ul Qur'an Kudus). Jurnal Pendidikan Agama Islam, 16(2), 203–222.
Suci Midsyahri Azizah (2019), Pengasuhan Demokratis dalam Pengembangan Sosial Emosional Anak Usia Dini di Tempat Penitipan Anak Ibunda Ponorogo, AL-MURABBI: Jurnal Studi Kependidikan dan Keislaman - Vol 6, No. 1 (2019)
Tonny K. Suhandi, Dedi Mulyasana, Adjat Sudradjat (2020), Penguatan Pendidikan Karakter Melalui Pola Pengasuhan Dan Keteladanan Di Sma Pu Al Bayan Sukabumi, NER; Nusantara Education Review Journal, [S.l.], v. 2, n. 3, p. 257-266, dec. 2019. SSN 2598-9553.Available at: http://ojs.spsuninus.ac.id/index.php/ner/article/view/92>. Date accessed: 02 aug. 2020.
Yasshinta, Chodidjah Makarim (2020). Hubungan Pola Asuh Santri dengan Pembentukan Karakter Santri di Pesantren Modern Ummul Quro Al-Islami Banyusuci Leuwimekar Leuwiliang Kabupaten Bogor, http://prosiding.uika-bogor.ac.id/index.php/acmas/issue/view/1, pada tanggal 03 Mei 2018 di Papyrus Tropical Hotel Bogor.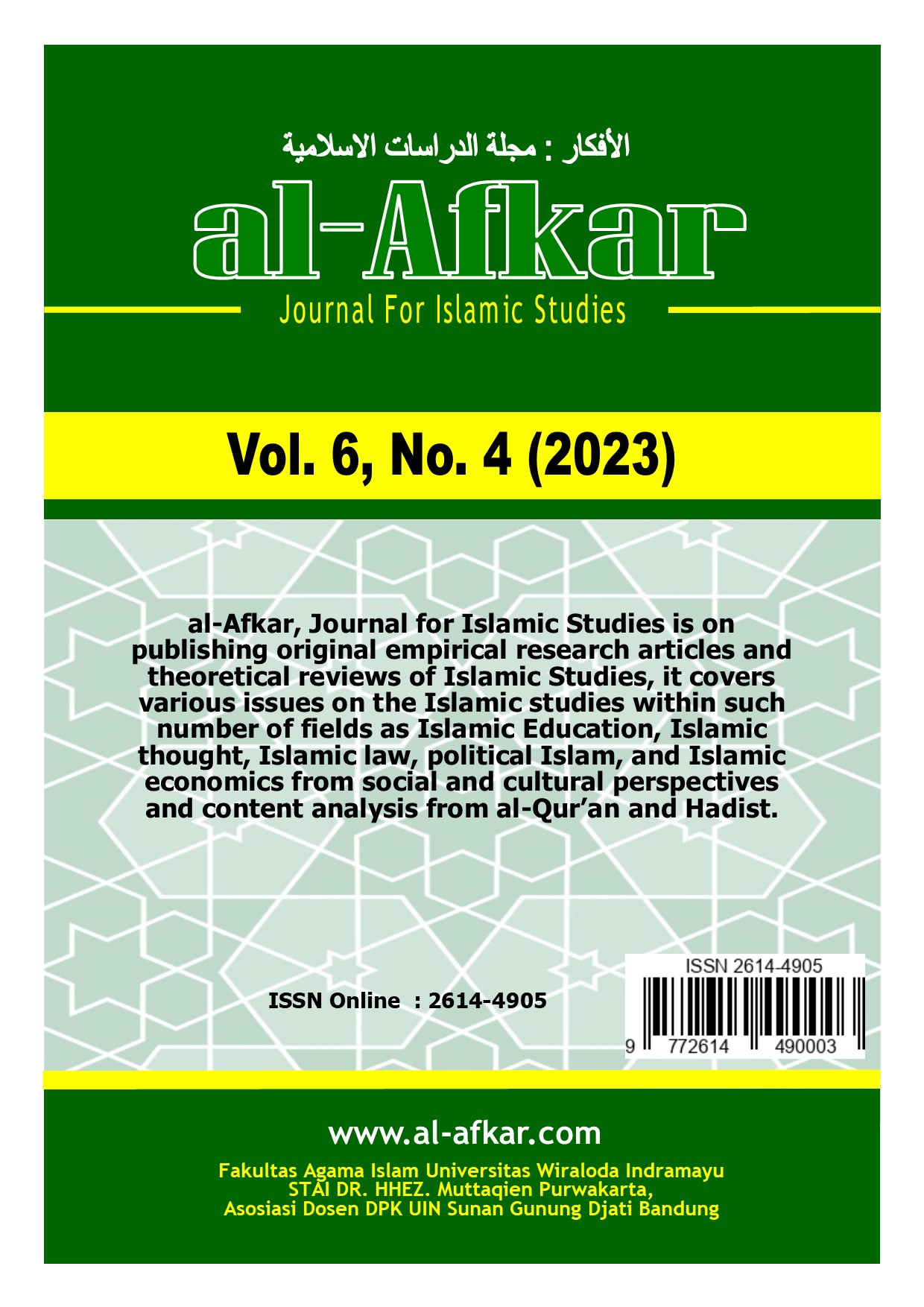 Downloads
How to Cite
Saridudin (2023) " Student Care Strategy Through Application Code Of Ethics Of Santri In Pesantren Al-Qur'an Cijantung Ciamis", al-Afkar, Journal For Islamic Studies, 6(4), pp. 546–562. doi: 10.31943/afkarjournal.v6i4.804.
License
Copyright (c) 2023 Saridudin
This work is licensed under a Creative Commons Attribution 4.0 International License.