The Theory of Money According to Imam Al-Ghazali
Keywords:
Al-Ghazali, the concept of money , Islamic economics
Abstract
Al-Ghazali in his works of Ihya Ulumuddin, al-Mustashfa Mizan, al-Amal and At-Tibr al-Masbuk fi al-Nasihah al-Mulk. In his works, Al-Ghazali explains many aspects of Islamic economics, especially Al-Ghazali's thoughts on the concept of money. This research aims to find out Imam Abu Hamid al-Ghazali's thoughts on the concept of money.  Al-Ghazali's thinking about the concept of money is inspired by the number of economic problems that occur in the barter system or exchange of goods. Al-Ghazali has explained several functions that money has, including as qiwam of al-dunya (unit of calculation), hakim mutawasith (measure of the value of goods), and al-mu'awwidlah (medium of exchange).
Downloads
Download data is not yet available.
References
al-Ghazali, Abu Hamid. Ihya' 'Ulum al-din, Juz 4. Beirut: Dar al-Fikr, 1958.
al-Ghazali, Abu Hamid. al-Mustashfa min 'Ilm al-Usul, Juz 1. Beirut: al-Resalah Publishing House, 1997.
Abdullah, H. Boedi. Peradaban Pemikiran Ekonomi Islam. Bandung: CV Pustaka Setia, 2010.
Abdullah, Ma'ruf. "Perbedaan Paradigma Ekonomi Konvensional dan Ekonomi Islam Dalam Teori dan Realita". Jurnal At-Taradhi Studi Ekonomi. Volume 3, Nomor 1 (2012).
Amalia, Euis. Sejarah Pemikiran Ekonomi Islam Klasik Hingga Kontemporer. Depok: Gramata Publishing, 2010.
Aziz, Abdul. Ekonomi Sufistik Model al-Ghazali: Telaah Analitik Terhadap Pemikiran al-Ghazali Tentang Moneter dan Bisnis. Bandung: Alfabeta, 2011.
Chamid, Nur. Jejak Langkah Sejarah Pemikiran Ekonomi. Yogyakarta: Pustaka Pelajar, 2010.
Fauzia, Ika Yunia dan Abdul Kadir Riyadi. Prinsip Dasar Ekonomi Islam Perspektif Maqasid al-Shari'ah. Jakarta: Prenada Media Group, 2014.
Hanafi, Ahmad. Pengantar Filsafat Islam. Jakarta: Bulan Bintang, 1991.
Karim, Adiwarman Azwar. Ekonomi Islam Suatu Kajian Kontemporer. Jakarta: Gema Insani Press, 2001.
Qorib, Ahmad dan Isnaini Harahap. "Penerapan Mashlahah Mursalah Dalam Ekonomi Islam". Jurnal Analytica Islamica. Vol. 5, No. 1 (2016).
Yanti dan Rafidah. "Ekonomi Islam Dalam Sistem Ekonomi Indonesia (Studi tentang Prinsip-Prinsip Ekonomi Islam dalam KHES dan Implementasinya terhadap Ekonomi Nasional)". Jurnal Kontikstualita. Vol. 25, No. 1 (2009).
Yusup, Asdar. "Paradigma Kontemporer Ekonomi Islam". Jurnal Studia Islamika. Vol. 11, No. 2 (2014).
Rahman, Fazlur. Membuka Pintu Ijtihad. Cet. I; Bandung: Pustaka, 1995.
Supriyadi, Dedi. Perbandingan Madzhab Dengan Pendekatan Baru. Bandung: Pustaka Setia, 2008
Syukur, Asywadie. Pengantar Ilmu Fiqh & Usul Fiqh. Cet. I; Surabaya: Bina Amin, 1990.
Sutedi, Adrian. Perbankan Syariah: Tinjauan dan beberapa segi hukum, Bogor: Ghalia Indonesia, 2009.
Sudikno Mertokusumo, Hukum Acara Perdata Indonesia, Alumni, Bandung, 1982)
Suyud Margono, ADR dan Arbitrase, Ghalia Indonesia, Jakarta, 2000)
Taufiq Rohman. (2017). Kontroversi Pemikiran Antara Imam Malik Dengan Imam As-Syafi'I Tentang Mashlahah Mursalah Sebagai Sumber Hukum Islam: International Journal Ihya' 'Ulum Al-Din. https://doi.org/10.21580/ ihya. 18.1.1743.
Rizaldy M & Ahmed H. 2019. Islamic legal methodologies and Shariah screening standards: Application in the Indonesian stock market. Thunderbird International Business Review (2019) 61(5) 793-805 DOI: 10.1002/tie.22042
Qorib, Ahmad & Harahap, Isnaini, Penerapan Mashlahah Mursalah Dalam Ekonomi Islam, Analiytica Islamica, Vol. 5. No. 1, 2016.
Yuslem, Nawer. al-Burhan fi Ushul al Fiqh Kitab Induk Usul Fikih: Konsep Mashlahah Imam al-Haramain al Juwayni dan Dinamika Hukum Islam. Bandung: Cita Pustaka Media, 2007.
Yahya, Mukhtar dan Fatchurrahman, Dasar-Dasar Pembinaan Hukum Fiqh Islami, PT AlMa`rif, Bandung, 1986.
Zaidan, `Abd al-Karim, Al-Wajiz fi Ushul al-Fiqh, Muassasah ar-Risalah, Beirut, cet. ke-7, 1998.
Zahrah. Muhammad Abu. Malik, Hiyatuh wa 'Asruh, 'Ara'uh wa Fiqhuh, t.t. Dar al-Fikr al-'Araby, t.t
Zaid, Musthafa. al-Mashlahah fi al- Tasyri' al-Islamiy wa Najm al- Din al-Thufi. Mesir: Dar al-Fikr al- 'Arabiy, Cet ke-2, 1964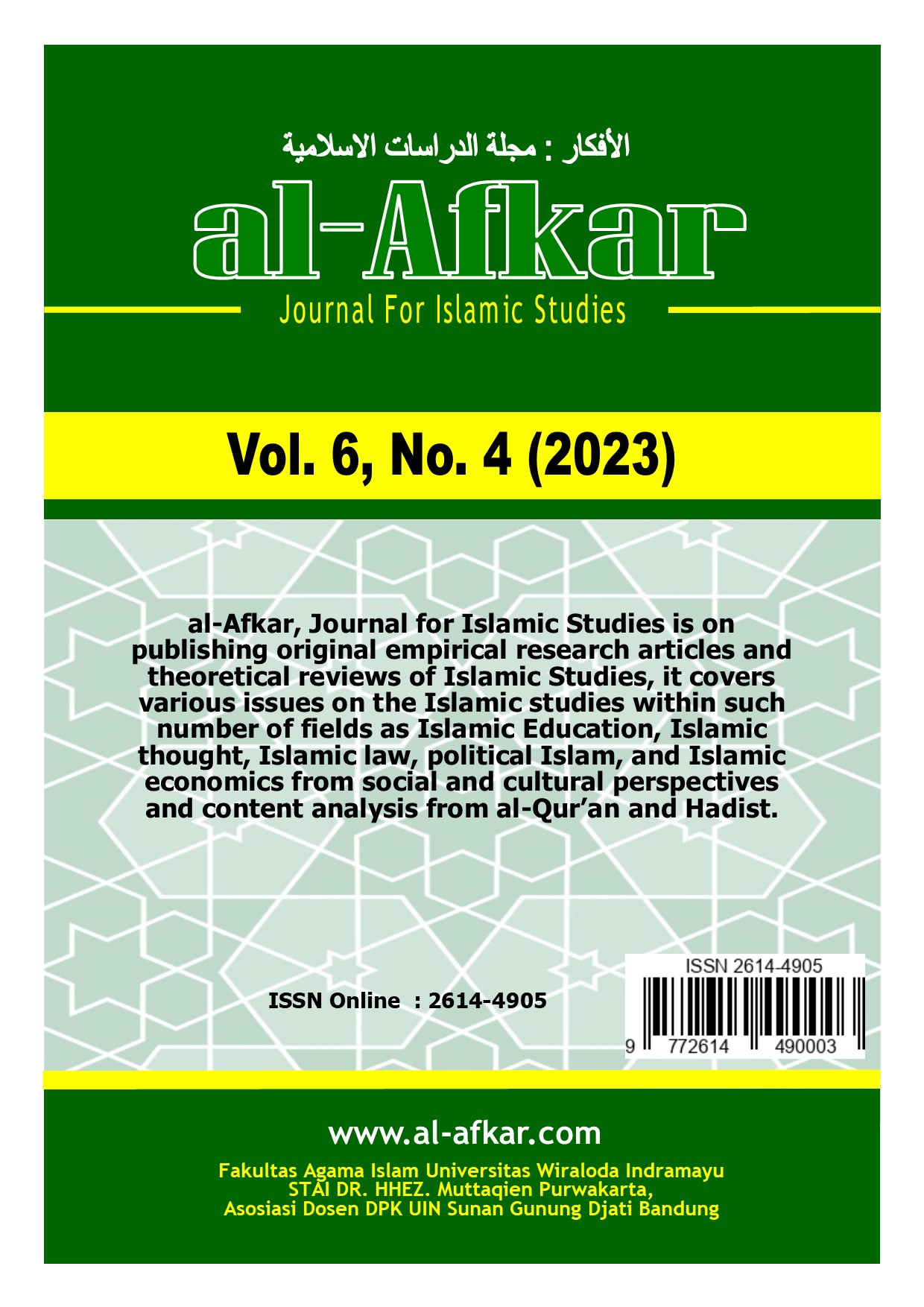 Downloads
How to Cite
Chandra, Yadi Janwari and Ahmad Hasan Ridwan (2023) "The Theory of Money According to Imam Al-Ghazali", al-Afkar, Journal For Islamic Studies, 6(4), pp. 204–211. doi: 10.31943/afkarjournal.v6i4.781.
License
Copyright (c) 2023 Chandra, Yadi Janwari, Ahmad Hasan Ridwan
This work is licensed under a Creative Commons Attribution 4.0 International License.