Review of Islamic Economic Law on Islamic Banking Service Contracts
Keywords:
Law, Islamic Economics, Dhamanah, Contract, Wakalah
Abstract
Financial service activities provided by Islamic banking in Indonesia are applied with various service contracts such as wakalah, hawalah and kafalah. In its current operation, the service contract is still an issue that is discussed, especially regarding the suitability of the contract for sharia requirements. The purpose of this research is to analyze the service contracts of Islamic banks in the review of fiqh muamalah maliyah. The type of qualitative research used in this research describes descriptively to share a clear reflection of the application of contracts used in service products provided by Islamic banks. Literature research in this research is attempted by collecting data both in the form of a novel diary of Fatwa DSN, KHES to strengthen the conclusion. The results of this research describe the operational concepts of service contracts: wakalah, hawalah and kafalah in Islamic banking. Furthermore, the findings in this research state that the service contracts on wakalah, hawalah and kafalah contracts applied to various products in Islamic banking are suitable in the review of fiqh muamalah maliyah.
Downloads
Download data is not yet available.
References
Arfan, M. (2020). Analisis Pengaruh Inflasi, Kurs, Suku Bunga, Margin Bagi Hasil terhadap Non Performing Financing pada Bank Syariah. Jurnal of Admiration, 1(3), 196–206.
Aziziy, M. R. (2018). Tawatu' dalam Kajian Fiqih dan Konsekuensinya pada Transaksi Keuangan (Muamalah Maliyah). Jurnal Istiqro: Jurnal Hukum Islam, Ekonomi Dan Bisnis, 4(1), 68–79.
Abdul Ghafar, I., Nik Abdul Rahim, N. A. G., & Mat Nor, M. Z. (2016). Tawarruq time deposit with wakalah principle: an option that triggers new issues.
International Journal of Islamic and Middle Eastern Finance and Management, 9(3).
Al Hakim, S. (2019). Muamalah maliyah sebagai rujukan hukum ekonomi syariah Islam. Dalam: Pengamalan Pengalaman Islam Berkemajuan. Cetakan pertama. Bandung: Tijari Institute.
Cahyani, Y. T. (2018). Konsep Fee Based Services dalam Perbankan Syariah. El- Barka: Journal of Islamic Economics and Business, 1(2), 235-250.
Ghazaly, A.R., Ihsan, G., & Shidiq, S. (2015). Fiqh Muamalat. Jakarta: Prenada Media Group.
Hanif, A. (2019). Akad Kafalah Dalam Perspektif Filsafat Ditinjau Dari Asas Kemaslahatan. Tahkim: Jurnal Hukum dan Syariah, 15(1), 88–97.
Hamdani, H. (2013). Analisis Implementasi Konsep Kafalah pada Bank Syariah Mandiri Banda Aceh: Studi terhadap Penyelesaian Kontra Garansi Sektor Konstruksi. Share: Jurnal Ekonomi Dan Keuangan Islam, 2(1), 1–25.
Ishak, M. S. I., & Asni, F. (2020). The role of maqasid al-Shariʿah in applying fiqh muamalat into modern Islamic banking in Malaysia. Journal of Islamic Accounting and Business Research, 11(9), 2137–2154.
al-Juhaili, W. (2005). al-Fiqh al-Islami wa adilatuhu. Damaskus: Dar al-Fiqr al-Mua'sshim.
Khan, A., Hassan, M. K., Paltrinieri, A., Dreassi, A., & Bahoo, S. (2020). A bibliometric review of takaful literature. International Review of Economics and Finance, 69, 389–405. https://doi.org/10.1016/j.iref.2020.05.013
Khalil, A. W. (2018). Transfer Dana dalam Perspektif Hukum Islam. Al Hurriyah: Jurnal Hukum Islam, 15(2), 23–41. https://ejournal.iainbukittinggi.ac.id/index.php/alhurriyah/article/view/615
Maulidizen, A. (2021). Akad murābaḥah; Konsep dan pelaksanaan di lembaga keuangan Islam modern. Reslaj: Religion Education Social Laa Roiba Jornal, 1(1), 88–102.
Muhit, Mugni. Hukum Ekonomi Syariah Landasan Filosofis Transaksi Halal, Skesta Media, 2023.
Muneeza, A., & Mustapha, Z. (2020). Practical application of Kafalah in Islamic banking in Malaysia. PSU Research Review, 4(3), 173–187.
Nazmi, R., Komarudin, P., & Hani, U. (2000). Praktik Akad Wakalah di Perbankan Syari'ah (Analisis Fatwa DSN MUI No: 10/DSN-MUI/IV /2000).
Nizaruddin. (2013). Hiwalah dan Aplikasinya dalam Lembaga Keuangan Syari'ah.
Adzkiya : Jurnal Hukum Ddn Ekonomi Syariah, 1(2.
Nuhyatia, I. (2013). Penerapan dan Aplikasi Akad Wakalah pada Produk Jasa Bank Syariah. Economic: Jurnal Ekonomi Dan Hukum Islam, 3(2), 94–116.959/700
Nurazizah, N. E. (2008). Implementasi Akad Hiwalah dalam Hukum Ekonomi Islam di Perbankan Syariah. Tafaqquh: Jurnal Hukum Ekonomi Syariah Dan Ahwal Syahsiyah, 5(2), 59-74.
Puspitasari, N. (2015). Hybrid Contract and Funds Efficiency Management of Islamic General Insurance Company (Study In Indonesia). Procedia - Social and Behavioral Sciences, 211.
Rachmawaty, R., Pandaya, K., Mohammad Al Azab, A. (2019). The Implementation of Wakalah Contract by Multifinance Companies in Indonesia. International Journal of Islamic Economics, 1(1), 79–90.
Rafiqi, Y. (2016). Al-Dhawābith Al-Fiqhiyyah Yang Berkaitan Dengan Jual Beli. Al Mashlahah Jurnal Hukum Dan Pranata Sosial Islam, 4(7), 377–386.
Rizal, R. (2015). Implementasi Wakalah pada Lembaga Keuangan Mikro Syariah. Equilibrium: Jurnal Ekonomi Syariah, 3(1), 125-139. https://journal.iainkudus.ac.id/index.php/equilibrium/article/view/1275
Rizvi, S. A. R., Narayan, P. K., Sakti, A., & Syarifuddin, F. (2020). Role of Islamic banks in Indonesian banking industry: an empirical exploration. Pacific Basin Finance Journal, 62(February), Article 101117.
Romli, M. (2019). Ushul Fiqh Sebagai Kerangka Berpikir Dalam Istinbath Hukum Ekonomi Islam. Al-Kharaj: Jurnal Ekonomi, Keuangan & Bisnis Syariah, 1(2), 158–164. https://doi.org/10.47467/alkharaj.v1i2.53
Royani. (2015). Muamalah maliyah dalam perspektif gender. Muwazah: Jurnal Kajian Gender, 7(1), 75–82.
Toyyibi, A. M. (2019). Implementasi Hawalah Pada Pembiayaan Bermasalah Studi Kasus Koperasi Jasa Keuangan Syariah Usaha Gabungan Terpadu Bmt Sidogiri Kcp Omben Tahun Buku 2018. Profit: Jurnal Kajian Ekonomi Dan Perbankan Syariah, 3(2), 38–50. https://doi.org/10.33650/profit.v3i2.871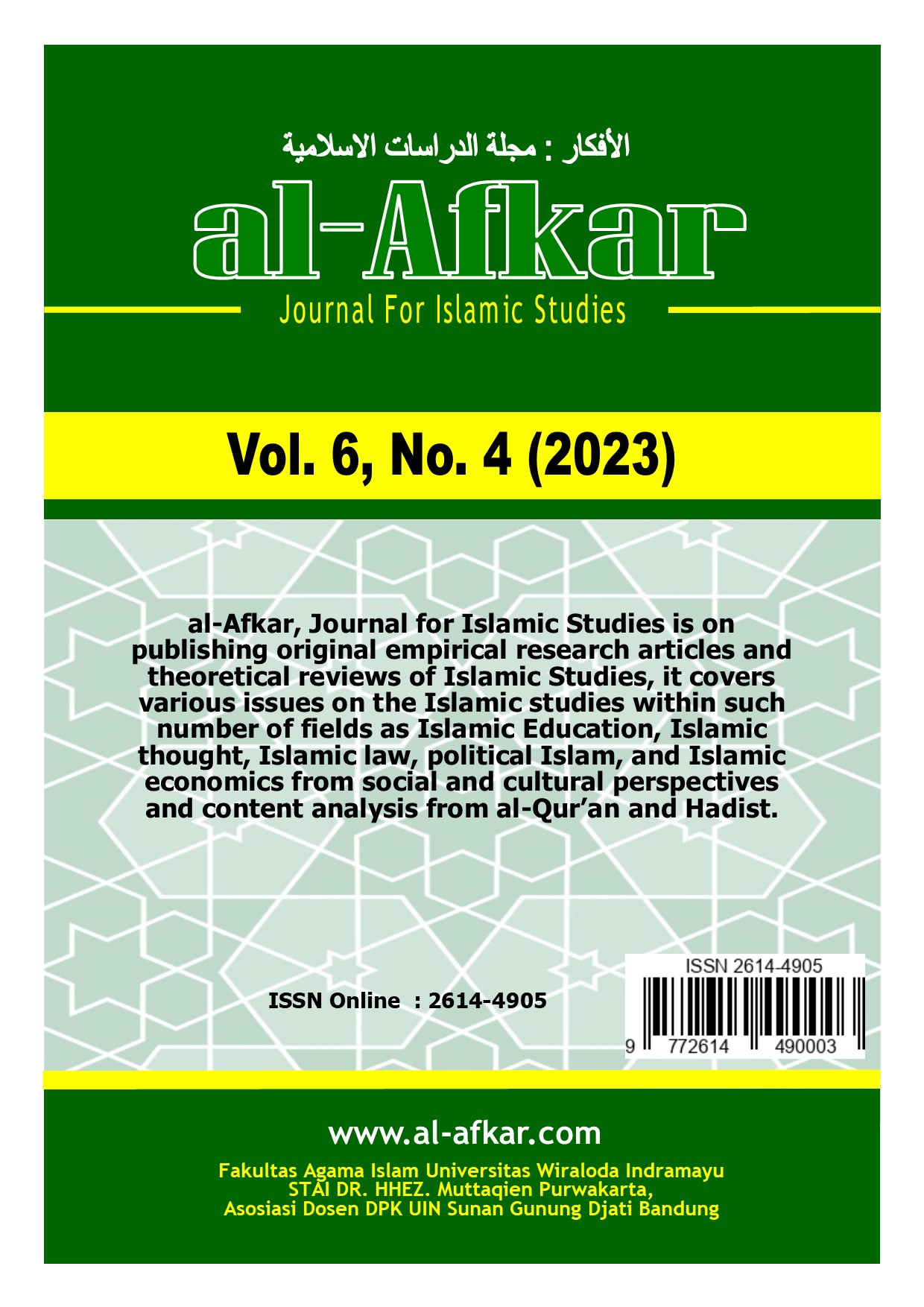 Downloads
How to Cite
Muhamad Maulana Darsono and Mohamad Anton Athoillah (2023) "Review of Islamic Economic Law on Islamic Banking Service Contracts", al-Afkar, Journal For Islamic Studies, 6(4), pp. 79–89. doi: 10.31943/afkarjournal.v6i4.763.
License
Copyright (c) 2023 Muhamad Maulana Darsono, Mohamad Anton Athoillah
This work is licensed under a Creative Commons Attribution 4.0 International License.